Description
Designed for sportfishermen, cruisers, sailors and sailing racers who demand high performance, ease of operation and feature integration in a chartplotter/sonar combo. The 10-inch multi-touch widescreen GPSMAP 7410xsv combo includes built-in dual CHIRP sonar plus CHIRP ClearVü and CHIRP SideVü scanning sonar with the clearest images on the water. Its internal 10 Hz GPS updates your position and heading 10 times per second. GPSMAP 7410xsv is fully network capable, including Garmin Network and NMEA 2000, and offers the conveniences of built-in Wi-Fi® connectivity.
Built-in Advanced Sonar Capabilities
The built-in sonar capabilities of the GPSMAP 7410xsv include 1 kW dual CHIRP sonar, the most sophisticated sonar technology available for the fishing and boating public. Dual CHIRP sonar provides amazingly clear target separation and definition because it puts even more energy onto the target than CHIRP. It gives you the ability to show low/high, med/high or low/med on the screen at the same time, enhancing your ability to distinguish between game fish and balls of bait fish. It also includes both CHIRP ClearVü and CHIRP SideVü scanning sonar that provide nearly photographic sonar images of fish and structure that passes below and to the sides of your boat. Garmin ClearVü™ and Garmin SideVü™ provide the clearest scanning sonar images on the water. Also supported are 50 kHz/200 kHz, 77 kHz/200 kHz and Minn Kota® and MotorGuide® trolling motor transducers (sold separately). GPSMAP also includes sonar-recording capability that coordinates the timing of the sonar return with your boat's position and saves digital information for playback on a computer using HomePort™ planning software.
Garmin Marine Network and NMEA 2000 Support
Full-network compatibility allows you to add more capabilities to your boat. GPSMAP 7410xsv supports radar, autopilot, instruments, multiple screens, FUSION-Link, sensors, remote sonar modules, digital switching, thermal cameras, GRID rotary knob, joystick and keypad control, and more.
Add Array or Dome Radar
You can add your choice of Garmin marine radar, including our powerful xHD2 open array radars or xHD dome radars that pairs ease of use with advanced open array features.
Network Sharing
GPSMAP 7410xsv allows you to share features with other compatible GPSMAP units, such as sonar, radar, supplemental maps and user data, including waypoints, routes and tracks. User data entered into 1 chartplotter can be automatically synced with other chartplotters in a network.
Heading and Position Refreshed 10 Times Per Second
Fast, responsive 10 Hz GPS/GLONASS refreshes your position and heading 10 times each second to make your movement on the screen more fluid. It makes dropping up to 5,000 accurate waypoints — and finding your way back to them — quick and easy.
Upgrade with the Best Maps on the Water
Two SD™ card slots provide expandable memory for accessory map purchases, such as LakeVü HD, LakeVü HD Ultra or BlueChart® g2 or BlueChart g2 Vision.
FUSION-Link Entertainment System
Enjoy the ability to control all compatible FUSION-Link-enabled audio systems directly from your compatible chartplotter display.
Compatible with gWind™ Transducers
Garmin gWind, gWind Wireless and gWind Race transducers feature twin-fin technology with 3-bladed propeller. Connect to the NMEA 2000 and compatible Garmin chartplotters via the GND™ 10 black box bridge.
Black Box Interface
The GND 10 black box interface seamlessly integrates Nexus instruments and sensors with the Garmin family. It converts data between the Nexus network and NMEA 2000 to provide trouble-free compatibility between Nexus and Garmin products.
The Ultimate Connected Boating App
Built in Wi-Fi gives you access to the free all-in-one ActiveCaptain® app, so you can manage your marine experience from nearly anywhere. It creates a simple yet powerful connection between your compatible mobile device and your Garmin chartplotter, charts, maps and the boating community. Wherever you are, you'll have unlimited access to your cartography, the ability to purchase new maps and charts and access to the Garmin Quickdraw™ Contours Community. Stay connected with smart notifications on your chartplotter screen. You can also plan a trip or prefish a lake, and ActiveCaptain will automatically sync with your chartplotter. Even get notifications for software updates, and decide when to download them on your device.
Enhanced Auto Guidance
Just enter the location where you want to go and patented Garmin Auto Guidance² technology instantly searches through relevant charts to create a virtual pathway on the display that helps you avoid low bridges, shallow water and other charted obstructions en route.
Better still, with enhanced Version 2.0, you now have access to even more features and capabilities. You're able to adjust the calculated Auto Guidance pathway by inserting "via" points at interim stops or landmarks along your desired route. You can easily review hazard points along your calculated path. And you can even engage your compatible Garmin autopilot to follow the Auto Guidance route, automatically. Other 2.0 enhancements give you the ability to calculate arrival times at any point on your route (great for timing arrivals to correspond with bridge openings and other time-critical events). Better still, you can now save your plotted Auto Guidance paths for future navigation by backing them up on an SD™ card with your BlueChart® g2 Vision® or Garmin LakeVü™ HD Ultra cartography¹.
Simplified SOS Calling
This exclusive SOS safety assist feature makes it easier for anyone – even those not familiar with marine electronics or radio protocols – to quickly call for Coast Guard help in an emergency. By simply tapping the SOS button on the chartplotter's touchscreen display, your networked Garmin VHF radio will automatically tune to the Channel 16 emergency frequency and a list of possible situations (fire, man overboard, etc.) will be displayed. Once the applicable choice has been selected, the screen will provide a Coast Guard approved VHF radio distress call script, along with the ship's current lat/long GPS coordinates, that can be read off to responders – thus saving time, averting panic, and providing the essential information needed by rescuers to assure the best possible outcome.
GPX Waypoints Transfer
If you have waypoints, tracks or frequently used routes stored on another manufacturer's GPS product – or on a Garmin handheld device –  now it's easier than ever to transfer those items to your new Garmin chartplotter, via industry-standard GPX software formatting. GPX is an open standard format for GPS data exchange across platforms and applications. With this easy-to-use interface technology, Garmin has taken "no waypoint left behind" to a whole new level of trade-up convenience.
Special Sailing Features
To help you gain a wind-maximizing competitive edge, your chartplotter features a pre-race guidance page that shows your virtual starting line, along with data fields showing laylines, time to burn before the start and a race timer that can be synchronized across all your networked Garmin GPS products. In addition, other supported sailing features include an enhanced wind rose, heading and course-over-ground lines, set and drift, true and apparent wind data and more. You can also use available built-in wireless connectivity to access and control a variety of marine-specific apps via compatible smartphones or tablets.
Panoptix™ Down Transducer
With 1 Panoptix Down transducer, you get 3 remarkable views, allowing you to actually see fish and bait swimming around under your boat – in real time. You can even see fish in the water column in 3-D, from the bottom to the surface. You can be stationary yet still see things in 3-D below your boat.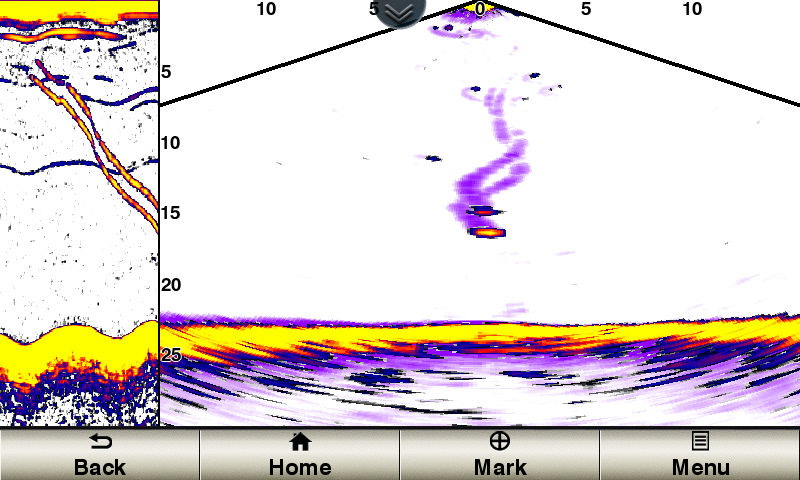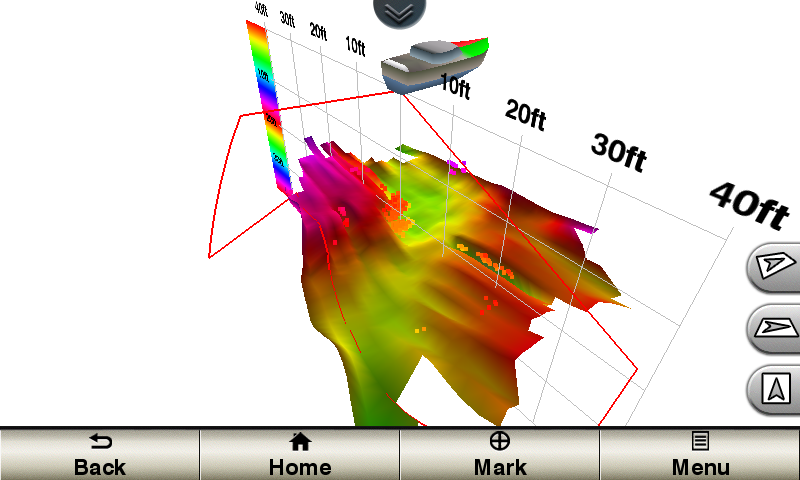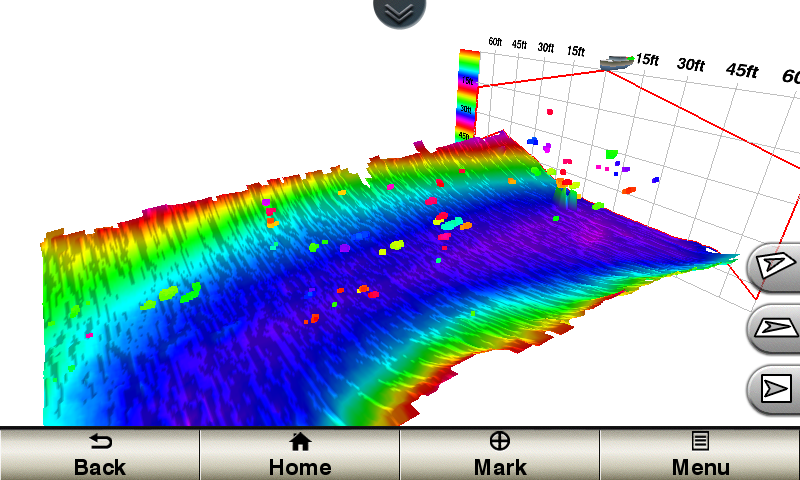 LIVEVÜ DOWN
Shows real-time moving sonar images below the boat. This screen shows bait drop echo trail movement in purple with sonar history data at left.
REALVÜ 3-D DOWN
Scans the area below the boat from front to back and side to side. This screen shows a school of fish sitting against the back side of vertical face, on Pport side of boat 35 feet deep.
REALVÜ 3-D HISTORICAL
Scrolls through the data as the boat moves to show the history of entire water columns – from the bottom to the surface and all of the fish in between. This screen shows the boat passing over a stream channel with a school of fish between 30 to 40 feet.
Panoptix Forward Transducer
One Panoptix Forward transducer provides 2 impressive views, even while your boat is stationary. It shows the bottom plus fish and bait swimming in the water column in front of your boat – in real time. You can even see your lure as you reel it in. You can also get 3-D views of fish and structure in front of your boat.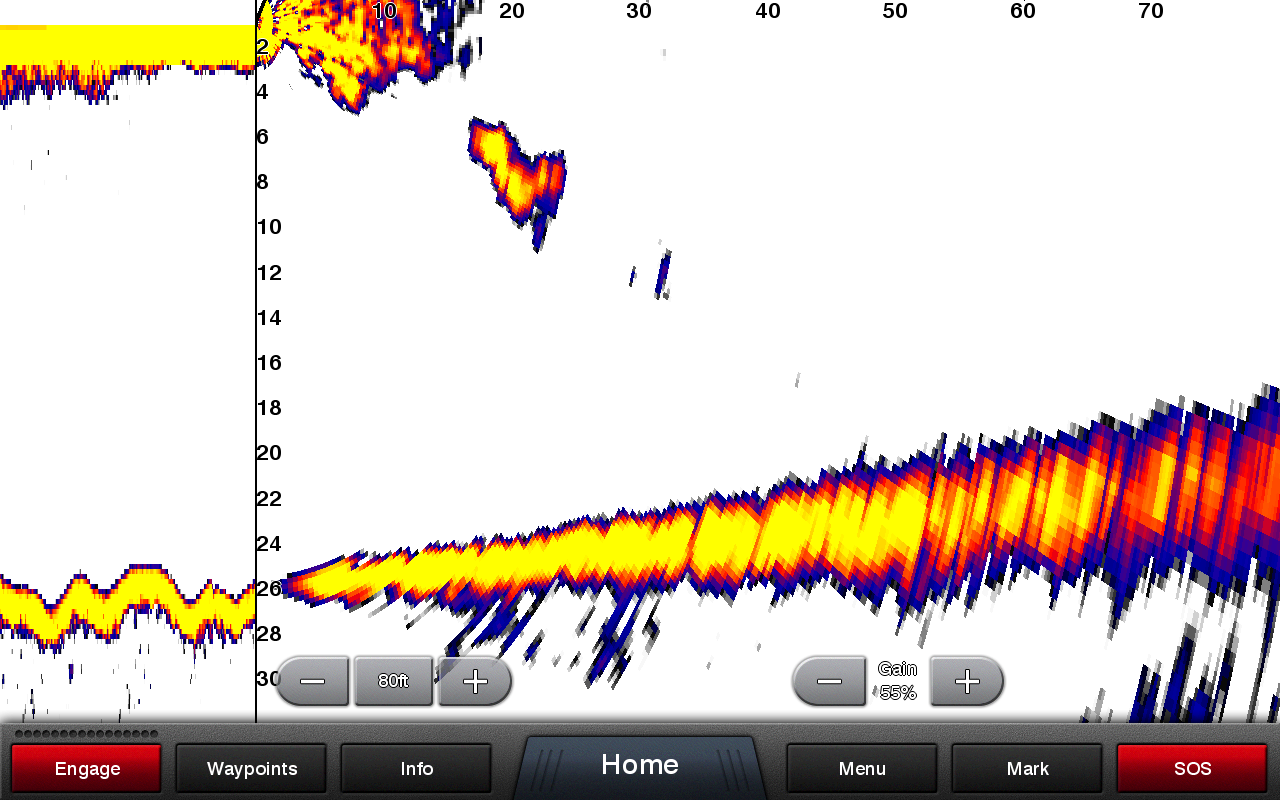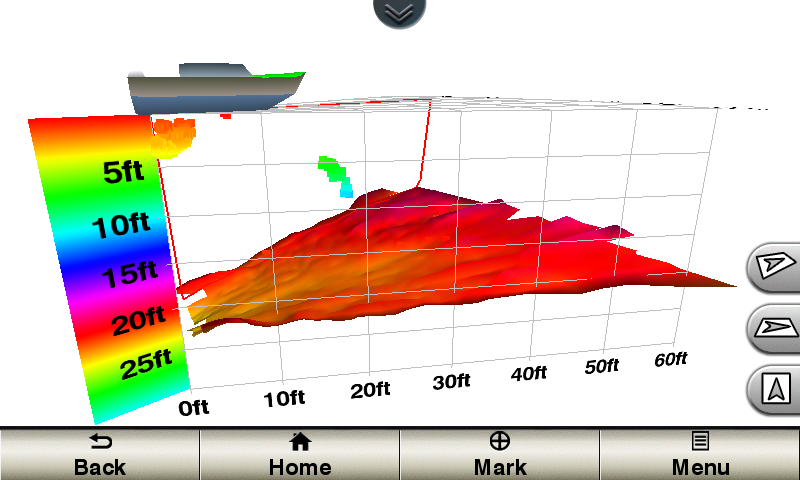 LIVEVÜ FORWARD
Updates are provided with a single ping, providing real-time moving images of what's in the water. This screen shows a large target (a diver) approaching the boat.
REALVÜ 3-D FORWARD
Digitally scans the area in front of the boat, creating a forward-looking 3-D view of the bottom, structure and fish. This screen shows fish targets at 10 feet and drawing bottom depth of 20 feet.
Create your own HD maps
Quickdraw Contours is a free, easy-to-use software feature already installed on your compatible Garmin combo. It instantly creates your own personalized HD fishing maps with 1-foot contours. Tailor them to fit your needs. They are your maps — you own them. Keep the data to yourself, or share it with the Quickdraw Community on Garmin Connect™. There's no special surveying expertise required. You just fish while it creates maps. You don't have to wait around or send your files away like other mapping software requires — your results appear instantly. Use with any of the following sonar transducers:  Garmin Panoptix™, HD-ID™ traditional, CHIRP-enabled, Garmin ClearVü™ or NMEA 2000®-compatible depth. Have more than 1 sonar device installed onboard? Quickdraw Contours automatically selects the most capable sonar device to provide the very best results for you!
Multiple Depth Range Shading
Designate up to 10 different depth ranges each with its own color. Makes it easier to view target depths at a glance.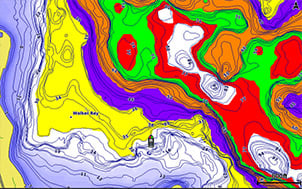 Commission Autopilot from Chartplotter
To make commissioning easier and more convenient, you can handle the entire autopilot commissioning process from your chartplotter screen.
Axis and FLIR Camera Support
Garmin offers support for select Axis cameras and for select FLIR cameras. These can be used for surveillance and situational awareness on vessels of any size. You can control your camera's pinch-to-zoom and pan/tilt settings with gestures directly on the plotter screen and view video on multiple screens as well as multiple video streams on the same screen. Use an Axis encoder to convert analog camera, such as Garmin GC 10, to video over IP.
Catch All the Action On the Water
This chartplotter supports wireless connections to Garmin VIRB® X and XE action cameras so you can catch all the action during your time on the water. More importantly, with a simple software update, you can control recordings, take still pictures, and stream video from a VIRB X/XE action camera to your GPSMAP® 7400/7600 series chartplotter or 8000/8400/8600 series Glass Helm chartplotter. In fact, you can stream video from up to 4 VIRB X/XE action cameras and view the video on a compatible marine chartplotter. You can even view previously captured images and videos on the chartplotter and display thumbnail previews for easy selection. Control play, pause, seek and replay from your chartplotter. There's even an automatic slide show mode and the ability to delete unwanted VIRB images or videos. Each VIRB can be named for easy identification. You can also control your VIRB cameras to change VIRB video settings, including aspect ratio, video resolution, frames per second, photo size, field of view and more — directly from the marine chartplotter. Send NMEA 2000 boat information from the chartplotter to VIRB X/XE to be overlaid as G-Metrix™ data on the video using VIRB Edit or the VIRB mobile app. Some data requires optional accessories.
iPhone and iPad are trademarks of Apple Inc. App Store is a service mark of Apple Inc. Android and Google Play are trademarks of Google Inc.
Wi-Fi is a registered trademark of the Wi-Fi Alliance.
¹BlueChart® g2 Vision® or Garmin LakeVü™ HD Ultra SD card is required for this technology.
²Auto Guidance is for planning purposes only and does not replace safe navigation operations.
Physical & Performance
Physical dimensions
11.4" x 8.1" x 3" (28.9 x 20.6 x 7.6 cm)
Water rating
IPX7
Mounting options
Bail, flat or flush (Garmin does not offer any hardware or accessories for a flat-mount installation. Professional tools and knowledge is required.)
Antenna
Internal or external over NMEA 2000
Receiver
10 Hz GPS/GLONASS
Display size

8.6" x 5.3"; 10.1″ diagonal

(21.8 x 13.5 cm; 25.7 cm diagonal)

Display resolution
1280 x 800 pixels
Weight
5.2 lbs.
Display type
WXGA display
Maps & Navigation
| | |
| --- | --- |
| Accepts data cards | 2 SD™ cards |
| Track log | 50,000 points; 50 saved tracks |
| Preloaded maps | None |
| Routes | 100 |
Features
Additional

User interface: Multi-touch touchscreen
Auto backlight dimming: Yes
Supplemental map sharing: Yes
Internal sonar sharing: Yes, transmit and receive
Ability to share internal sonar with the following devices:

GPSMAP 527/547 series
GPSMAP 527xs/547xs series
GPSMAP 721/741 series
GPSMAP 721xs/741xs series
GPSMAP 7400/7600 series
GPSMAP 7400xsv/7600xsv series
GPSMAP 8000 series
GPSMAP 800/1000 series
GPSMAP 800xs/1000xs series

J1939 connector

Wireless remote compatible
Yes
Maximum depth
5,000 ft at 1kW (depth capacity is dependent on water bottom type and other water conditions)
Dual-frequency (50/200 kHz) sonar capable
Yes
Transmit power
1 kW traditional; 1 kW CHIRP
SiriusXM™ Weather & Radio compatible
Yes
Water temperature log and graph
Yes
Supports FUSION-Link™ compatible radios
Yes
Power consumption

Max power usage at 10 Vdc: 30 W
Typical current draw at 12 Vdc: 1.95 A
Max current draw at 12 Vdc: 2.5 A

NMEA 0183 output ports
2
NMEA 2000® compatible
Yes
Voltage range
10-32 Vdc input
Bottom lock (shows return from the bottom up)
Yes
CHIRP sonar technology
Yes (Built-in)
NMEA 0183 compatible
Yes
Supports AIS (tracks target ships position)
Yes
GSD™ Black Box sonar support
Yes
GCV™ Black Box sonar support
Yes
Sonar history rewind
Yes
Video input ports
2 Composite
SideVü
Yes with CHIRP (built-in)
ActiveCaptain compatible
Yes
GRID™ (Garmin Remote Input Device) compatible
Yes
Garmin Radar compatible
Yes
Supports DSC (displays position data from DSC-capable VHF radio)
Yes
Garmin Marine Network™ ports
2
Garmin Sonar compatible
Yes
NMEA 0183 input ports
2
Wireless connectivity
Yes
Wireless mouse compatible
No
Sonar recording
Yes
Dual-beam (77/200 kHz) sonar capable
Yes
Waypoints
5,000
Garmin SmartMode compatible (customizable monitor presets)
Yes
Video output ports
1 DVI-D
Garmin Meteor™ Audio System compatible
Yes
ClearVü
Yes with CHIRP (built-in)
Garmin Helm compatible
Yes
Tide tables
Yes